Our Australian colleagues will recognise this event as a feature of their conventions, which they call the "John Little Show". The Host Chapter in Auckland has decided to call the NZ version
The John Buckley Show
after an alumnus of the New Zealand barbershop scene who passed away in 2017 (more on John later).
So what is it? It is an opportunity for quartets to sing informally in front of an audience of fellow barbershoppers before the Convention proper begins. The emphasis is on the word "informal" and is it not, in any way, a contest. There is no expectation that performers will be in their quartet uniform/costume.
The Venue
The John Buckley Show will be held at St. Matthew-In-The-City, a historic and beautiful church in the CBD (It was built long before the casino next door!).
The St Matthews website
gives you an idea of the ethos of the church, and what the venue looks like from the inside. It is renowned for its ambience as a concert venue.
Please note there are no refreshments or snacks provided at the venue and the organisers would be grateful if everyone refrained from eating or drinking at the venue - except for bottled water.
Timing
The event will run from 8:00 pm to 10:30 pm on the evening of Wednesday 13 September 2023.
(For those attending the NZ Young Singers in Harmony Finale Show at the Victory Convention Centre, please come along to the John Buckley show afterwards. You'll make it in time for the second half and will hear some great quartets!)
Booking and Eligibility
If your quartet wishes to sing you can
book a slot here
. If you have any difficulties with the booking form, try
this link
instead (this is an external website - when you click on the link your browser will open the booking form in another window or tab).
This is open to all Barbershop Quartets registered with BHNZ, BHA and BHS but we may have to restrict numbers, depending on the response. If we do have to restrict entry, preference will be given to those Quartets entering the Pan Pac contests and then will be on a first-come, first-served basis.
Selection of quartets
The draw is out! All participating quartets should have received full instructions by email. Any issues please contact Richard Harker.
1

The Collective

BHA
2

Mixed Signals

BHA
3

Funny Bones

BHS
4

Forefathers

BHA
5

FOCUS

BHNZ
6

19th Avenue

BHS
7

Class Act

BHNZ
8

Afterglow

BHA
9

Heist

BHNZ
10

Fortune Hunters

BHA
11

Skylark

BHA
12

ConFusion

BHA
13

JAMM

BHA
14

Side Hustle

BHA
Intermission
15

Unlimited

BHNZ
16

The Resomancers

BHA
17

Quantum Leap

BHA
18

H4

BHS
19

C.C.Cats

Japan
20

Nerangutans

BHA
21

Overcast

BHA
22

Synching Feeling

BHA
23

Boardwalk

BHA
24

Block of Flats

BHNZ
25

The Electric Barbercats

BHA
26

Symptomatic

BHNZ
27

Synergy and Euphonic

BHNZ
A "Gold Coin" donation
There is no fee to attend or to perform, but if anyone would like to contribute a token amount, there is the facility for a "gold coin" donation to be collected at the show. The proceeds will go to the NZ Barbershop Foundation, a charitable organisation that exists to promote barbershop singing in New Zealand including helping up-and-coming leaders get to Harmony College in the USA. Both NZ and Australian gold coins are welcome! A point-of-sale device (EFTPOS machine) will be available.
Who Was John Buckley?
John Buckley was introduced to barbershop in 1987 and was a founding member of The Canterbury Plainsmen chapter in Christchurch. Known as "Mr Barbershop" for his wholehearted commitment to the craft, John was a perennial quartet medallist, from the first NZABS contest in 1989, until shortly before his death in March 2017.
John won national quartet gold medals on five occasions, with
Avon City Four
,
Garden City Sound
, and
Phoenix Rising
. He went on to win further Senior quartet championships with
Pastime
and
Men Aloud
. His quartets represented New Zealand at international BHS conventions on at least four occasions, including the first-ever New Zealand quartet (Avon City Four) to appear on the international stage in 1991. He would undoubtedly be one of the most medalled barbershoppers in New Zealand.
However, it wasn't the medals that mattered most to John, but the joy of singing, and the friendships that he made along the way. John was happiest at conventions when he could sing in informal situations, such as "Sing with the Champs", and at afterglows. It is therefore entirely appropriate that a show for quartets to sing non-contestable songs in an informal atmosphere should be named after John.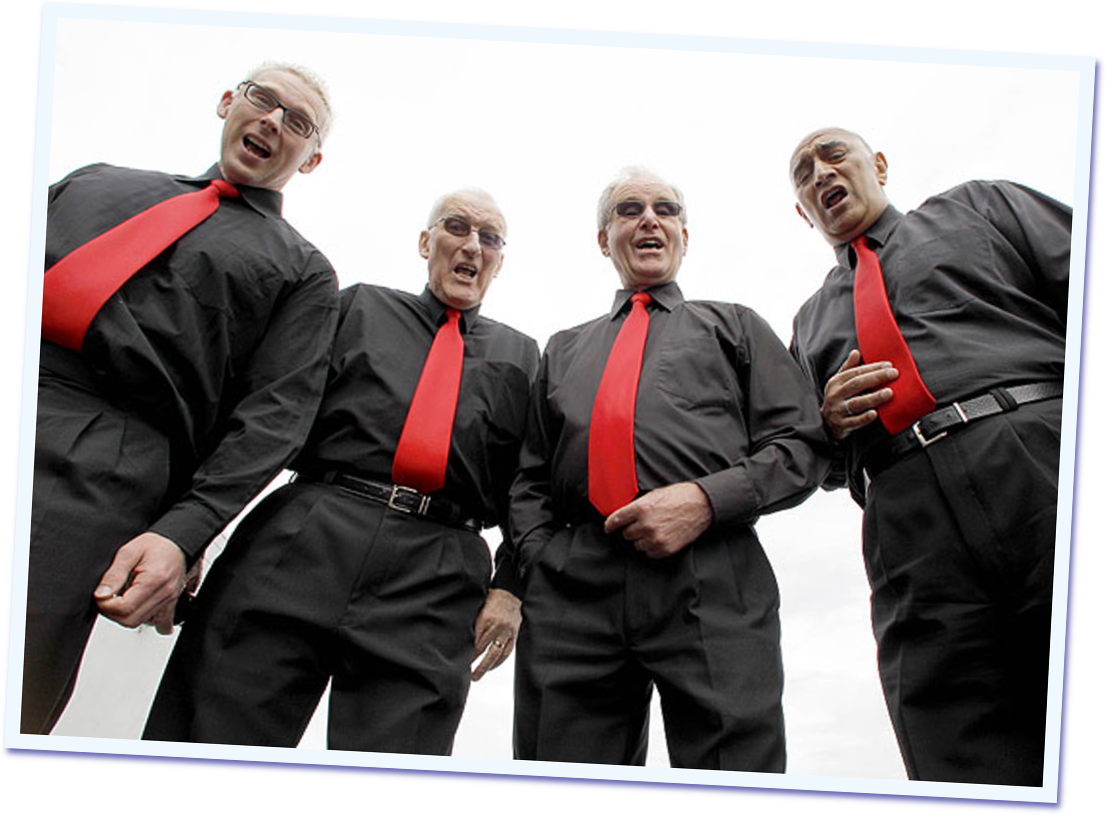 John (second from the left) doing what he loved.